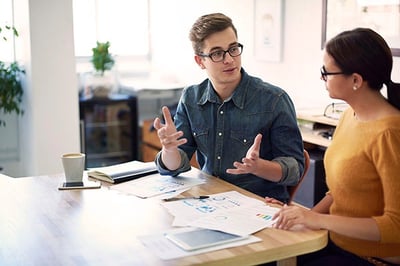 Recently, the U.S. Equal Employment Opportunity Commission (EEOC) published updated guidance on the anti-relation provisions under federal equal employment opportunity (EEO) laws. The guidance provides employers with important information about how the EEOC will interpret anti-retaliation rules for enforcement purposes.
Background:
Retaliation is prohibited under several federal EEO laws, including Title VII, the Age Discrimination in Employment Act, the Americans with Disabilities Act, and the Genetic Information Nondiscrimination Act. In recent years, retaliation has been the most common complaint filed with the EEOC.
Anti-retaliation provisions prohibit employers from taking an adverse employment action, such as termination, against an employee because that employee engaged in protected activity. Protected activity can be in form of participating in an investigation or a proceeding or opposing unlawful conduct. The EEOC's guidelines broadly interpret the type of activity considered protected under the law.
Protected Activity:
The EEOC guidance expands on types of protected activity and states that employers are prohibited from taking adverse action against employees for:
Opposing conduct they reasonably and in good faith believe is unlawful;
Filing a complaint or participating in their employer's internal complaint process;
Serving as a witness; or
Participating in any other way in an EEO matter, even if the underlying discrimination allegation is ultimately unsuccessful.
To be protected, such activity must be based on a good faith belief that the practice is unlawful. The EEOC gives the following non-exhaustive list of examples of protected actions:
Complaining or threatening to complain about alleged discrimination against oneself or others;
Providing information in an employer's internal investigation of an EEO matter;
Refusing to obey an order reasonably believed to be discriminatory;
Advising an employer on EEO compliance;
Resisting sexual advances or intervening to protect others;
Passive resistance (such as refusing to implement an instruction to interfere with other employees' complaints);
Requesting reasonable accommodation for the employee's disability or religion;
Complaining to management about EEO-related pay disparities; or
Talking to coworkers to gather information or evidence in support of a potential EEO claim.
Adverse Action:
According to the EEOC, retaliation includes any action that might deter a reasonable person from engaging in protected activity, including both work-related and non-work-related actions. The EEOC's guidance provides some examples:
Denial of promotion, refusal to hire, denial of job benefits, demotion, suspension, and termination;
Work-related threats, warnings, or reprimands;
Negative or lowered performance evaluations;
Transfers to less prestigious or desirable work or work locations, including unfavorable schedule changes;
Making false reports to government authorities or in the media;
Filing a civil action;
Threatening reassignment; scrutinizing work or attendance more closely than that of other employees, without justification;
Removing supervisory responsibilities;
Engaging in abusive verbal or physical behavior that is reasonably likely to deter protected activity, even if it is not "severe or pervasive" enough to be considered "hostile";
Requiring re-verification of work status, making threats of deportation, or initiating other action with immigration authorities because of protected activity;
Terminating a union grievance process or other action to block access to otherwise available remedies; or
Taking (or threatening to take) a materially adverse action against a close family member (who would then also have a retaliation claim, even if not an employee).
Americas with Disabilities Act (ADA):
The ADA prohibits discrimination on the basis of one's disability. It also prohibits retaliation, coercion, threats, or other activities that interfere with an individual's exercise of ADA rights, or with an individual who is helping another exercise ADA rights. The EEOC provides examples of prohibited actions:
Coercing an individual to relinquish or forgo an accommodation to which he or she is otherwise entitled;
Intimidating an applicant from requesting accommodation by indicating that such a request will result in the applicant not being hired;
Threatening an employee with loss of employment or other adverse treatment if he does not "voluntarily" submit to a medical examination or inquiry that is prohibited under law;
Issuing a policy or requirement that effectively limits an employee's rights to invoke ADA protections (such as a fixed leave policy with "no exceptions for any reason");
Interfering with a former employee's right to file an ADA lawsuit by stating that a negative job reference will be given to prospective employers if the suit is filed; and
Subjecting an employee to unwarranted discipline, demotion, or other adverse treatment because he or she assisted a coworker in requesting reasonable accommodation.
Recommended Practices:
The guidance includes several practices employers should consider adopting, including:
#1: Maintain a Written Anti-Retaliation Policy
The policy should include:
Examples of retaliation that managers may not otherwise realize are prohibited;
Proactive steps for avoiding actual or perceived retaliation, including practical guidance on interactions by managers/supervisors with employees who have lodged discrimination complaints;
A reporting mechanism for employee concerns about retaliation, including access to a mechanism for informal resolution and multiple avenues for reporting concerns; and
A clear explanation that retaliation will be subject to discipline, up to and including termination.
#2: Avoid Pay Secrecy Policies
Avoid policies that would impose materially adverse actions against employees for inquiring, disclosing, or otherwise discussing wages.
#3: Train Employees
Train all managers, supervisors, and employees on your anti-retaliation policy, and send a message from top management that retaliation will not be tolerated.
#4: Follow up
After an employee engages in protected activity, follow up with employees, managers, and witnesses to ensure there are no concerns regarding potential or perceived retaliation.
#4: Document All Decisions
Require decision-makers to identify their reasons for taking consequential actions, and ensure that they have necessary documentation to support the decision.
Conclusion:
Employers should review the guidance in full and consider whether they should make changes to their policies, practices, and employee training. The EEOC also published a fact sheet for small businesses.